Glendale, Arizona – Juan Francisco Estrada (44-3, 28 KOs) held off a late rally by Roman "Chocolatito" Gonzalez (51-4, 41 KOs) to win a twelve round majority decision. (photos by Melina Pizano)
The scores were 114-114 for the draw, 116-112 and 115-113 for Estrada.
They first met in 2012, with Chocolatito winning a twelve round unanimous decision. The 2021 rematch saw Estrada win what many felt was a controversial twelve round split decision.
It was a close boxing match in the first, with both starting slow. In the second, Estrada was jabbing a lot and going to the body. Estrada was keeping it in the center of the ring and boxing. Gonzalez was starting to get warmed up, but not throwing enough.
Chocolatito began to let his hands go in the third, with more action taking place between the two as they were trading away. Gonzalez came out pressing forward and looking to do damage in the fourth. Estrada was connecting more often during exchanges.  
In the fifth, Gonzalez really picked it up and landed a good number of punches. Estrada landed quite a few as well, making things close. It was close action in the sixth, with Estrada landing the better punches. During the seventh, Gonzalez seemed to edge the action, but it was very close as both had success. 
The eight saw Gonzalez landing more often and pushing Estrada back.  More of the same in the ninth, with Gonzalez continuing to rally and press forward with combinations. Estrada was getting his shots in as well, but not as many as he did in the earlier rounds. And Gonzalez continued to rally in the tenth with Estrada seeming to slow down as the fight was playing out.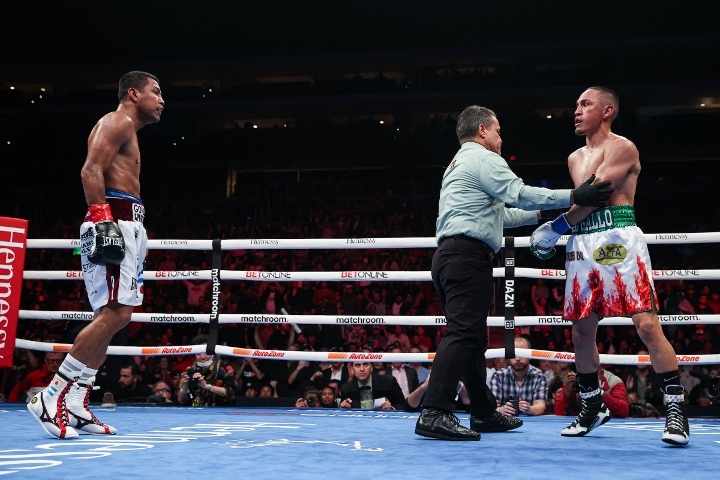 It was give and take in the eleventh. Gonzalez had a slighter better workrate as the round continued. In the twelfth and final round, Estrada started well and was connecting with sharp punches. Gonzalez kept coming, pressing and taking the fight to Estrada. They were trading heavy punches for most of the round. Estrada closed it strong with a shot to the body that may have hurt Gonzalez.